Co-investment & Structuring of new Ground Leases
In addition to the acquisition of existing ground rent contracts, we are keen to structure new ground leases in close partnership with institutional co-investors seeking to invest in the leasehold properties.
Continuum Capital usually creates new ground rent properties by bifurcating the freehold land in parallel to the acquisition of the leasehold interest in the same property by an institutional co-investor in the buildings. The ground lease contract will be established as an integral part of the closing of the transaction. Continuum Capital is prepared to offer a substantial premium for the ground rent cash flows compared to the acquisition multiple paid by the principal investor for the lease income. Hence, the lead investor achieves a higher cash-on-cash return on his equity. Based on the very flexible conditions of the ground rent contract, the leasehold investor can also implement his asset management approach regarding the leasehold building in a unobstructed manner. The leasehold investor benefits from the tax advantages of the structure by turning a non-depreciable asset into a ground lease with the full benefit of the tax shield.  As the ground rent is only tied to CPI but not to market uplifts in real estate values, the leasehold investor also participates disproportionally in any value increases of the building, either through active asset management or caused by market developments.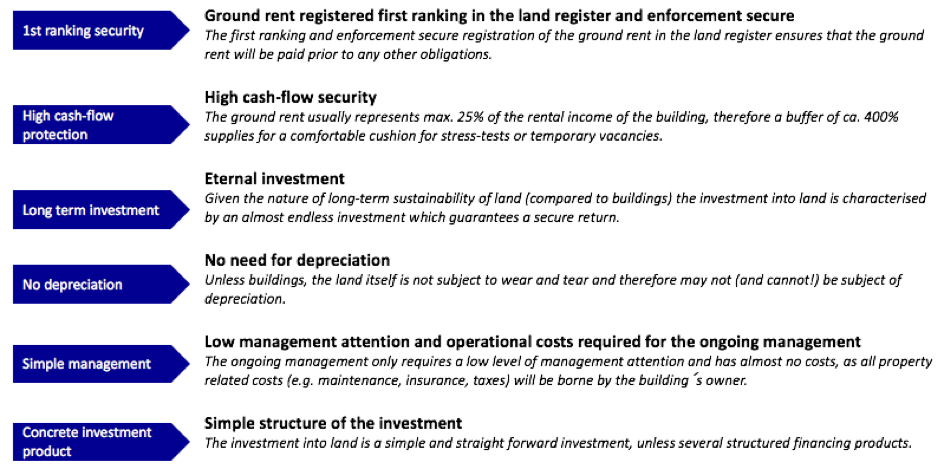 The ground lease as financing instrument for residential- and commercial property developer
Increasing land prices, in particular in the German metropolitan areas, lead to higher liquidity requirements for real estate developer. In this regard, the creation of a new ground lease and the sale of the land to Continuum Capital makes sense in order to reduce liquidity requirements, already at the beginning of a development project. The intended development can commence thereafter as usual and e.g. the sale of individual apartments can take place in line with common market practice. At the development of commercial properties, the bifurcation usually will come effective at the practical completion of the development.
Investment criteria
Continuum Capital is interested in the acquisition of land related to residential, office and retail property portfolios located in metropolitan areas of Germany, the main university cities and the capitals of the German federal states, as well as hotels in the German top-7 cities. Overall, Continuum Capital seeks to create a ground rent portfolio, which is well balanced in terms of property types, regions and tenant base. Each transaction shall generate a ground rent income of not less than EUR 250,000 per annum.
Property types
Office: modern office properties in central locations, multi-tenant properties and single-tenant properties with long-term lease agreements
Retail: shopping centers, retail parks and hypermarkets
Hotels: 3/4/5 star hotels in top-7 locations with at least 2 drivers of consumer demand
Residential: multi-family housing portfolios with low vacancy